7 Quick and Easy Ways to Get Your Home Ready for Fall
Updated on October 19, 2017
The mild temperatures and changing colors are welcome reminders that fall is here. I LOVE this time of year. Even in my native Texas – and sunny Florida, my adopted state – autumn has a warmth and beauty no other season can match.
To everything there is a season (Ecclesiastes 3:1-8), and this one is gorgeous and full of heart. Thanksgiving is almost here, and Christmas is not far behind.
Are you ready for autumn? In this post, I'll share seven ways to get your home ready for fall. Little things you can do now to embrace the season and get your home prepped for the holidays.
Let's get started.
NOTE: This post contains affiliate links. If you buy something through one of the links, I will earn a small commission at no extra cost to you. Read more here, and thank you for your support.
7 Ways to Get Your Home Ready for Fall
Labor Day has come and gone, and summer time is over. School is back in session, and the weather's getting colder. Fall has arrived, so let's make sure you're ready for the season.
1. Organize Your Closet
Let's start with a closet overhaul. I know what you're thinking. Closet cleaning is usually associated with spring cleaning, right?
But now is a GREAT time to organize your closet. How else can you make room for those new coats, boots, and fall fashions?
If you are like me, you ENJOY declutter-and-organize projects. If not, here's a checklist to get your closet ready for fall:
Remove everything from your closet and start sorting.
Separate the things you want to keep from those you're ready to part with.
Donate or sell what you're ready to give away.
Store your summer clothes and organize what you're wearing now.
Get new hangers and storage boxes, if you need them.
Dry clean your coats, weather-proof your shoes and boots, and repair whatever needs it.
The cleaner and more organized your closet is, the easier it is to keep track of what you have. Then you can figure out what you need to buy and (here's the fun part) start shopping.
2. Rotate Your Mattress
Your mattress gets uneven wear over time, causing permanent ruts and body impressions. By the time you notice the mattress start to sag, it's usually too late to correct the problem.
So fall is a great time for a seasonal spin. A good rule of thumb is to flip your mattress each season. Alternate between side-over-side and end-over-end rotation.
If your mattress is the no-flip type – like the plush hybrid mattress on our adjustable bed – rotate it now. Seasonal rotation prolongs the life of your mattress.
While you're at it, launder your bedding. Don't forget the mattress pad, bed ruffle, pillows, blankets, and other bed linens.
And check care labels to see whether you can wash your bedding at home, or if it needs special care or dry cleaning – like our Biltmore bedding from Belk.
3. Clean Your Windows
Window cleaning is hard work, even at the best times. By choosing the right time of year to wash your windows, you'll get long-lasting results.
A crisp fall day is a good time to wash your windows. It has two main benefits: (1) mild temperatures, and (2) natural drying without streaks.
Use commercial or homemade cleaning products – or plain old dish soap and water. Then wait for an overcast day to reduce streaking and spotting.
If you don't have time to wash your windows, grab some glass cleaning wipes to control the smudges. Or use an outdoor glass cleaning tool for "streak-free shine in half the time."
4. Clean Your Stainless Steel
Shiny stainless steel makes your kitchen sparkle. So take some time out this fall to polish your appliances. Clean your refrigerator, stove, dishwasher, sink, microwave, toaster – anything that needs to shine.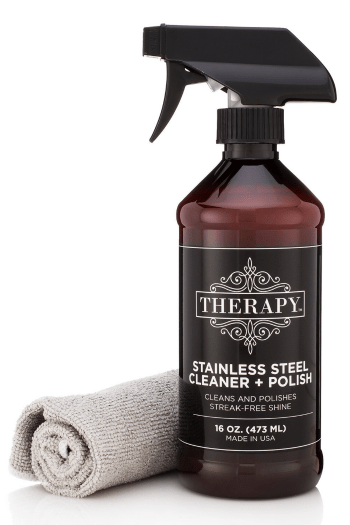 Therapy makes a standout cleaner and polish. But you can have a shiny kitchen without a store-bought product.
Do you want to know MY secret? It's olive oil and vinegar.
Pour a little olive oil on a rag, and wipe the surfaces of your appliances. Then dampen another rag with vinegar and wipe the surfaces again.
This simple remedy lifts all the fingerprints and leaves quite a shine. Best of all, it keeps your appliances smudge-free for days.
RELATED: 5 Easy Ways to Make Your Kitchen Sparkle
5. Clean Your Shower
You probably clean your toilet on a regular basis – weekly, with a little daily maintenance thrown in. But how often do you clean your shower?
Oh, you might clean your TUB once a week. But what about the shower walls and tile floor? Deep-cleaning your shower is a good way to get your home ready for fall.
This season, give your shower new life with a powerful automatic cleaner to remove mold, mildew, and soap scum. Not ready for this much investment? Add the product to your wish list.
Then, do what I do: Use an inexpensive foaming disinfectant like Scrubbing Bubbles. Spray the formula in a wet shower and let it do its work. Then wipe the surfaces clean with a wet cloth (no need to wipe them dry).
You'll have a cleaner, healthier bathroom in no time.
6. Bring Your Plants Inside
Unless you live in a warm climate – say, Grand Island, Florida – now's the time to bring your patio plants inside. Natural plant vignettes create a warm and welcome atmosphere in your home.
It might take some planning and squeezing to fit everything in. But it's necessary if you want your potted plants to survive winter.
Some hardy plants can spend the winter outdoors. But blossoming plants, like those native to the tropics, don't appreciate cold nights.
Even if a chill doesn't kill them, it could stunt their growth. When night temperatures dip below 45 degrees (Fahrenheit), start bringing your plants inside.
But don't bring the bugs in, too! Inspect your plants before moving them. Check for leaf-dwelling hitchhikers and pest that live in the soil.
7. Keep Household Pests at Bay
Everyone looks forward to holiday feasts – even uninvited pests. So while pest control is not a glamorous job, it's an important one this season.
With the arrival of fall, outdoor pests seek shelter indoors. The warmth of your home attracts many different household pests.
This fall, protect your home from roaches, ants, and other pesky creatures. Use a commercial spray, or try some natural pest remedies.
And don't invite bugs to the dinner table. Keep your stored items secure, your kitchen clean, and your food trash in a lidded garbage can.
And Now, Over to You
Thank you for reading my post. Now it's YOUR turn to chime in. What is the FIRST thing you do to get your home ready for fall? How else do you make your home autumn ready?
I would love to hear your housekeeping tips for fall cleaning or decorating. Let's fill the comments with friendly conversation.
Scroll down to leave a reply, ask a question, or just say hello. And if you liked the post, please give it a share.
Blessings, Annette
---
Acknowledgments
Photo sources: Aaron Burden, Annie Spratt, Ewa Stepkowska | Unsplash | License
Reference sources: Apartment Therapy, Family Handyman, National Gardening Association
This post was first published on Blogspot in October 2015.